Summary June 19 morning, as Taizhou City, "500 elite" entrepreneurial talent project of Yuhuan cabo Lille Tool Technology Co., Ltd. in County Technology Park business incubator opened officially put into operation. Its opening and commissioning has filled Yuhuan County in superhard tooling...
On the morning of June 19th, Yuhuan Cabril Tool Technology Co., Ltd., a Taizhou "500 Elite" talent entrepreneurship project, officially opened and put into operation in the County Science and Technology Entrepreneurship Incubation Park. Its opening and commissioning has filled the gap in Yuhuan County's superhard tool manufacturing field, and will provide a full range of tools for Yuhuan County's manufacturing industry, leading the development of strategic emerging industries and the transformation and upgrading of traditional industries in Yuhuan County.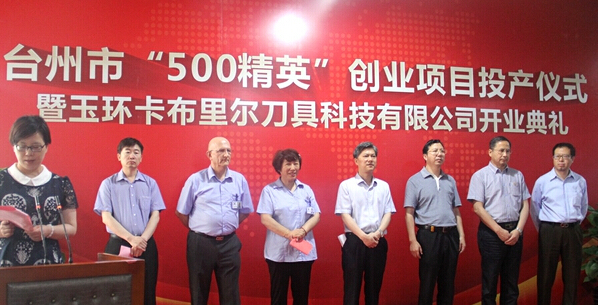 It is understood that the newly opened Yuhuan Kabriel Tool Technology Co., Ltd. is a wholly foreign-owned enterprise specializing in the production of high-precision superhard tools. The chairman of the company, Zhang Grace, Li Ying, is a professional engineer in the design and manufacture of Hull University. Dr. is also a tool expert selected for the "Thousand Talents Program" in Zhejiang Province in 2014. He has been engaged in the research of superhard materials and tools for more than 20 years. He has mastered the basic theory, material formulation, structural design, manufacturing process and testing of superhard materials. Core Technology.
At the opening ceremony, Lin Xianhua, deputy secretary of the county party committee and county magistrate, pointed out that in recent years, Yuhuan County has established a scientific and technological attitude based on the positive attitude of "seeking talents for talents, discovering talents such as winning treasures, and using talents to do their best". Talent activity week and other platforms for connecting enterprises and talents, building talent apartments, promoting a high-level talent green card system, and throwing olive branches to high-tech talents. Especially since the implementation of the "500 Elite Program" in Taizhou in 2012, Yuhuan County has actively docked and optimized services, further increasing the introduction of high-level talents, and has introduced 33 entrepreneurial innovations and shortages of talents. The arrival of these talents is not only the key technology for Yuhuan with Yuhuan Cabriel Tool Technology Co., Ltd. to solve industrial problems, but also brings many high-quality projects, among which Yuhuan Cabril Tool Technology Co., Ltd. is the province of Yuhuan County. Dr. Zhang Grace. Li Ying, an expert in the Thousand Talents Program, combined with his own technical advantages and based on the actual development of Yuhuan, will be promising and promising in the new project of Yuhuan. He hopes that Yuhuan Kabriel Tool Technology Co., Ltd. can grow up in Yuhuan with its leading technology, mature management experience and first-class service at home and abroad, and become a model for talent project introduction.
Product categories of Corrugated Sheet Roll Forming Machine,we are specialized
manufacturers from China,Corrugated Sheet Roll Forming Machine,sheet rollforming machine,
suppliers/factory,wholesele high-quality product of Corrugated Sheet Roll Forming Machine,
R & D and manufacturing , we have perfect after-sales service and technical support . Look forward
to your cooperation !
Corrugated Sheet Roll Forming Machine
Corrugated Sheet Roll Forming Machine,Trapezoidal Sheet Roll Forming Machinery,Color Steel Sheets Roll Forming Machinery,Color Steel Panel Roll Forming Machinery
BOTOU HUATONG CORRUGATED MACHINERY MANUFACTURING CO.,LTD , https://www.htrollforming.com