First, the automotive plastics industry
1. China's automotive polyurethane consumption is climbing

According to the latest statistics, as of August 2015, the capacity of China's polyurethane raw material MDI (diphenylmethane diisocyanate) has risen to 3.02 million tons / year, and the amount of polyurethane materials used in China's automotive industry is climbing.
The increase in the use of polyurethane is inseparable from the increase in sales in the global automotive industry. According to statistics, from January to November 2015, China's automobile production reached 22.237 million units, a year-on-year increase of 1.4%, and is expected to increase by 1.5% to 2% for the whole year. In the plastics used in modern automotive materials, the amount of polyurethane is not only the largest, but its application range is also unparalleled, from the car to the outer parts, from soft to hard, from light to compact, to high-strength Glass fiber reinforced products, the application of polyurethane can be seen everywhere.
At present, automotive parts have already used a large number of plastic parts, such as bumpers, wheel covers, license plates, instrument panels, door panels, knobs, and even hoods and air intake systems. Plastic parts are used. Looking at the situation in the United States, according to statistics, the North American automotive plastics market dominates polypropylene, accounting for 35% of the automotive plastics market, followed by polyurethane (PU) materials, with a specific gravity of 17%, in addition to ABS resin. And polyvinyl chloride (PVC) materials are demanding plastic materials used in the automotive industry.
2. Panasonic AIS produces heat-resistant phenolic resin molding materials for automotive parts in Thailand
On December 21, 2015, Panasonic Automotive & Industrial Systems (AIS) announced the establishment of a production line for heat-resistant phenolic resin molding materials for automotive components at Panaso nic Manufacturing Ayuthaya, a Thai-based manufacturing company. . The production line will be sampling from December 2015 and will be fully operational from February 2016. According to reports, this is the first time that Japanese related companies have produced heat-resistant phenolic resin molding materials in Thailand.
Demand for automobiles in Southeast Asia is expected to grow, so many auto parts manufacturers are expanding production. Under this circumstance, more and more companies are beginning to set up major bases in Thailand with important functions such as procurement, R&D and production. Therefore, it is possible to efficiently provide services by producing a heat-resistant phenolic resin molding material at a Thai production base close to the customer's company.
Heat-resistant phenolic resin molding materials are widely used as insulating materials for automotive electronic components and components. The material also maintains a stable size in high temperature environments with heat resistance and high strength. It is also expected to reduce the weight of the motor casing member or the like by replacing the metal member or compounding with the metal member.
Incidentally, as the above production line was put into production in Thailand, including Yokkaichi Mie Prefecture and Shanghai, China, AIS has reached three production bases of heat-resistant phenolic resin molding materials.
Second, home appliance plastics industry
1. Jilin Petrochemical aims to develop high-end ABS products in the home appliance market
The latest data shows that through the use of technology to help enterprises find gaps and fill shortcomings, Jilin Petrochemical ABS products have reached a total output of 510,000 tons this year, with sales reaching 500,000 tons, a record high. Under the situation that the chemical market is weak and demand is not strong, the momentum of growth against the trend has been achieved.
According to Dr. Lu Shulai, chief engineer of the Synthetic Resin Plant, Jilin Petrochemical's ABS products were mainly low-end general-purpose materials, which once occupied 40% of the general-purpose materials market. However, product simplification restricts the further development of ABS products. Therefore, the development of high-end, differentiated products has become the key to expanding market share.
Jilin Petrochemical ABS Resin R&D Center aims to target the domestic white goods market. Through technical exchanges with Haier, Midea, Gree and other companies to understand their product needs, it only took 3 months to develop the 0215H high-end white household appliances. The product not only has the physical properties of melt mass flow rate, impact strength, tensile strength, flexural elasticity and other physical properties higher than the low-end general-purpose ABS products, but also the yellow index and product whiteness are also significantly improved.
"After the product was introduced to the market, it has greatly attracted the attention of Haier, Midea, Gree and other companies. At present, these enterprises have become our fixed customers, and the stable supply has reached more than 6,000 tons." Lu Shulai said.
2, Japanese traditional home appliances into the cold winter Toshiba layoffs nearly 7,000 people
For Toshiba, Japan is undoubtedly the most difficult year. Toshiba, once in the global market, is now experiencing an unprecedented crisis. Recently, Toshiba's white goods and TV business have seen the final adjustment stage. A total of 6,800 layoffs will be implemented through various means such as resource resignation and internal digestion, with 2,000 domestic layoffs and 4,800 layoffs overseas.
Corresponding to layoffs, Toshiba's home appliances are extremely tight in overseas markets, and the land and building assets of Indonesia's color TV production plants and twin-cylinder washing machine manufacturing bases are sold to Chinese home appliance companies at a price of about 3 billion yen. Skyworth, meanwhile, also acquired the Toshiba brand in the Asian region other than China to develop video products such as color TV.
However, corresponding to Toshiba is a booming domestic appliance industry. The Chinese TV industry is currently facing an unprecedented major change. Under the background of the "Internet +" era, the TV with high definition and intelligence as its basic attributes has been realized. Converging with Internet attributes, changing the audience's experience and habits at all times.
Toshiba's decline is more due to the lack of control over the entire industry, coupled with the Japanese economic recession and other factors have caused Toshiba to take the strategy of breaking the arm to survive, can minimize the load and transform into other areas, Let the company achieve profitability as soon as possible.
Third, the lighting plastics industry
1. Yinhao Technology's subsidiary Yinhao Optoelectronics New Third Board is listed
On January 4, the announcement of the National SME Share Transfer System showed that Yinhao Optoelectronics' application for listing was approved and was publicly transferred today.
According to the announcement, the operating income of Yinhao Optoelectronics in 2013, 2014, and January-June 2015 was 5,314,400 yuan, 43.846 million yuan, and 3,863,380 yuan respectively; the net profit was -40,170,500 yuan, -226,230 yuan, and 1,764,300 yuan respectively. yuan.
Yinhao Optoelectronics was established on August 13, 2009. Its main business is the design, development, production, sales and technical services of special plastic parts for LED lighting. The products are mainly used in the lighting product manufacturing industry.
Yinhao Optoelectronics products mainly include two series of products: straight tube lamp/shaped tube plastic kit and bulb lamp plastic kit. Based on modified engineering plastics, with the research of heat dissipation structure and optical structure as the core, the combination of high-performance engineering plastics and structural design provides safe, environmentally friendly, energy-saving and efficient plastic kit solutions for downstream customers of LED lighting.
It is understood that the main business of the controlling party Yinhao Technology is modified polymer materials. Currently, it is mainly engaged in research and development, production and sales of flame retardant materials, weathering materials, reinforced and toughened materials, plastic alloy materials and environmentally-friendly and durable materials. The production capacity of 100,000 tons of modified polymer materials.
2. What is the focus of thermal plastics?
The rapid development of the LED industry has also spurred continuous progress in the material accessories industry, and further promoted breakthroughs in high-end materials. For example, at present, high-profile plastics are gradually replacing metal parts and are used in heat-conductive parts of LED lamps including lamp holders, cooling heat-dissipating cups, and casings.
"Compared with traditional lighting products, LED lighting needs to focus on heat dissipation. If the heat dissipation problem is not solved, it will directly affect the performance of the lamp bead and shorten the life of the lamp. Currently, the general heat dissipation materials are metal copper, aluminum, iron, etc. In particular, aluminum is the most popular, because aluminum is not only lightweight, but also has good thermal conductivity," said a lighting business owner.
Because aluminum is relatively expensive, costly, and limited by process, it has fewer styles. The ordinary plastic radiators that everyone used before, the insulation and heat dissipation performance are good, the price is relatively low, but because the thermal conductivity is worse than the metal, and the appearance of the product is rough, the quality is not high.
Therefore, after comprehensively measuring the advantages and disadvantages of aluminum and plastics, many LED lamp heat dissipation manufacturers have developed and introduced a new type of "plastic-coated aluminum" heat-dissipating material. The outer layer of the heat-dissipating material is made of high-heat-conducting plastic, and the inner layer is made of aluminum. Full consideration and combination of the advantages of plastic and aluminum. At the same time, the "plastic aluminum" heat-dissipating material is lower in cost and can be recycled than aluminum.
Fourth, 3D printing plastic industry
1, DSM is optimistic about 3D printing to expand the capacity of Dutch solidified additive manufacturing materials
DSM announced that it will increase its capacity for Somos® UV-cured additive manufacturing materials at its Hoek van Holland base in the Netherlands, which will meet the growing demand for 3D printing customers.
Somos® has been continually optimized with the development of the 3D printing industry for more than 20 years. The continuous development of 3D printing and the demand for new materials are also growing. Somos® is dedicated to innovative materials to support existing and new photopolymer based devices, driving 3D printing from prototyping to end users.
"This expansion will include the addition of state-of-the-art manufacturing and test equipment," said Bastiaan van Wieringen, manager of DSM Hoek van Holland. "We have more than 30 years of experience in producing high quality UV-cured products, and we hope to Support the development of Somos®."
"We are very pleased to grow with our customers and industry," said Melissa Lutz, Director of Somos®. "This investment has enabled us to better serve our customers and continue to innovate in the 3D printing industry."
2, 3D printing plant plastics is expected to completely replace petroleum plastics in the next 5 years
"Most of the petroleum plastic products are mainly composed of polyethylene or polystyrene. If the petroleum plastic waste is directly incinerated, the burning process will produce carcinogenic gas. If it is landfilled, it will be difficult to degrade after 100 years, and it will lead to ploughing and destruction. Ecological balance. Plant plastics have strong affinity with the environment. At present, there are shortcomings in manufacturing cost and deformation at high temperatures, but scientists believe that plant plastics are expected to completely replace petroleum plastics in the next five years.
As 3D printing technology continues to grow, so does the demand for the 3D printed materials market. With the continuous improvement of technologies such as plastics, ceramics, metals, LayWood and wax materials, the global 3D printing materials market is expected to reach a market capacity of 1.4 billion US dollars by 2020, weighing 2 billion kilograms.
At the international level, plant plastics have become a popular choice for 3D printing because they are easier to process and more environmentally friendly, but because of the lower temperature of their softening point, petroleum plastics are still widely used. However, the market favors plant plastics rather than petroleum plastics. Bioplastics partnered with 3Dom to develop a biodegradable thermoplastic Biome3d, a degradable plant-based plastic that is printed with a high surface finish that reduces brittleness and makes the product more flexible. And it is not easy to warp and crack, has a lower shrinkage rate, and has no odor. This further provides the possibility of a complete replacement of petroleum plastics by plant plastics.
V. Bioplastics industry
1. Italy builds the first glycerin to produce PHA biopolymer
Recently, Bio-on signed a cooperation agreement with SECISpA of Gruppo Industriale Maccaferri Group to witness the first plant in Italy to extract PHA from the biodiesel by-product, glycerol. Both companies are engaged in the industrial development of sustainable biochemistry and levulinic acid, and will jointly build an annual production capacity of 5,000 tons, which is expected to expand to 10,000 tons.
The plant, invested by the SECI for 55 million euros, is located in Eridania Sadam and will be the world's most advanced plant for the production of PHA biopolymers from glycerol. The new plant will require skilled employees specializing in the production of this revolutionary bioplastic.
PHA, a polyhydroxy fatty acid ester, is a bioplastic that can replace traditional polymers. Conventional polymers are generally made from hydrocarbons and processed by petrochemical processes. PHA has the same thermomechanical properties as traditional polymers, but has the advantage of being completely natural.
"We are investing 4 million euros to purchase a new biotechnology license developed by Bio-on," said Massimo Maccaferri, chairman of Eridania Sadam. "Because this new all-natural bioplastic is biocompatible and ecologically sustainable. To contribute to the development of our group's 'green' chemical industry."
Turbine Centrifugal Fan
Features: Turbine centrifugal fan impeller adopts the international standard backward design, the perfect streamline structure, large openings into the center of the impeller inlet wind, the wind through the center port into the wind, resulting in a strong centrifugal force, by the backward tilt fan blades thrown off quickly Turbine structure design makes the wind turbine has a strong wind, wind pressure.
Highlights: Turbine centrifugal fan by the overload thermal motor protection of the outer rotor, high efficiency after the circular arc-shaped centrifugal impeller of two parts. All impeller mold production, high precision dynamic balancing machine calibration, with small size, high efficiency, air volume, small vibration, low noise, superior performance, easy installation and commissioning.
Application: Material: Made of PA6 plastic, plastic one molding process. Diameter size 155mm ~ 250mm.
Applications: Air purification equipment, factory equipment (printing equipment, chemical fiber equipment, etc.), medical equipment, fresh food cabinets, refrigeration cabinets, servo motors, inverters, pipe ventilation, dehumidifiers, etc.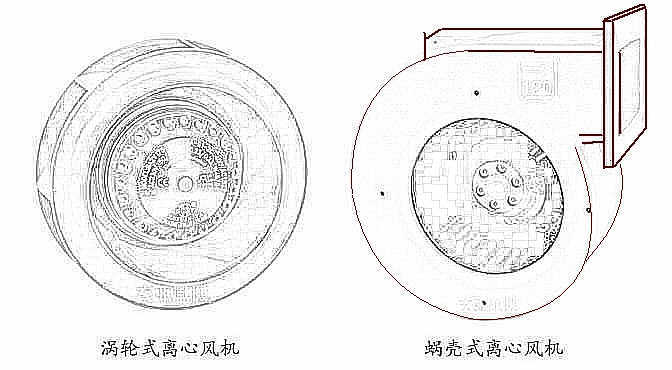 Volute centrifugal fan:
Features: Volute centrifugal fan impeller driven by the motor rotation, the impeller blades forcing gas rotation, the gas to work, to increase its energy, the centrifugal force in the gas around the impeller thrown through the scroll casing will speed Can be converted into pressure energy, when the impeller gas is discharged, the impeller pressure is lower than the pressure inside the inlet, the new gas in the pressure difference under the action of inhalation impeller, the gas is continuously exported from the outlet.
Highlights: The fan is designed with a reasonable impeller angle according to the aerodynamics of air flow. Without any mechanical friction during operation, a reasonable blade shape line minimizes the noise. The optimized impeller minimizes the axial force and has an efficient impeller , And the static and dynamic balance correction, the machine running smoothly, without any damping device, the bearing amplitude is relatively small.
Application: Material: Aluminum die-casting frame, wind wheel made of galvanized sheet, surface black electrophoresis, size Diameter: 120mm ~ 160mm
Applications: Sterilizers, heat exchange systems, clean benches, air shower, laboratory equipment, etc.
choose the suitable fan
1, the first parameter to note are: air volume, total pressure, efficiency, sound pressure level, speed and motor power.
2, Centrifugal fan pressure can be divided into three categories: high pressure centrifugal fan P> 3000Pa, medium pressure centrifugal fan 1000≤P≤3000Pa and low pressure centrifugal fan P <1000Pa. Depending on the stupid physicality and chemical properties of the delivered gas and the use, etc., different types of centrifugal fans are selected.
3, taking into account the loss of air leakage pipeline system, calculation error, as well as the actual fan fan, wind pressure negative deviation, centrifugal fan selection, the general use of air flow rate of 1,05 ~ 1,1, wind pressure of 1,10 ~ 1,15 safety factor. In order to prevent long-term fan in low-efficiency operation, it is not appropriate to use excessive safety factor.
4, in order to make the fan stable operation, should make the fan work in the vicinity of its efficiency, the fan operating point is located in the performance curve of the full pressure peak point on the right (ie, gales side, and is generally located at full pressure peak 80%). Fan design efficiency of the selected conditions, not less than 90% of the fan efficiency.
5, the use of variable frequency fan, the total pressure loss should be calculated as the system rated pressure, but the fan motor power should be calculated on the additional 15% to 20%.
Turbo-Blower,Electric Turbo-Blower,Professional Turbo-Blower,Turbo Fan
Shenzhen Fusheng Motor Co.,Ltd , http://www.fushengfan.com