Model NO.:

HX-04-016

Feature:

Long Time Materials

Shape:

Pipe

Surface Treatment:

Sand Blast

Standard:

DIN,ASTM,GB,ANSI

Trademark:

HEXIN

Specification:

Customized

HS Code:

85149090
Refractoriness (℃):

1580< Refractoriness< 1770

Type:

Heat-Resistant Material

Material:

Alloy Metal

Connection Type:

Seamless

Surface Roughness:

Ra6.3

Transport Package:

Wooden Case

Origin:

China
Qingdao Hexin Machinery Co., Ltd. are professional manufacturer for Ethylene cracking furnace radiant section tube parts include centrifugal casting tube , centrifugal casting tube bending , static casting pipe fittings , forgings, rolled tubes and other components. Use Metal centrifugal casting process , molten steel is cast into a variety of tube blank under centrifugal force ,through deep hole boring machine boring the hole, lathe groove welding , assembly and welding to be long tube .
Qingdao Hexin Machinery Co., Ltd. 
supplies the most common 45°elbow ,90°elbow and 180°elbow,the material is heat resistant alloy stainless steel, special sand casting method or by investment casting method, under strict NDT tests like RT test.
For cracking furnace tube we have 90°elbow,180°elbow,tee , palm tube, three-dimensional shaped elbow , hanging pieces etc.
For reformer furnace tube we have reducing cone, the manifold reducing cone, hanging pieces etc.
 
Item

Sand casting Y pieces wye piece tube fittins

Usage

Used in various types of hydrocarbon feedstock steam reforming hydrogen plant

Specifications
General centrifugal casting products supply specifications:
Cracking tube: OD 50mm-200mm,wall thickness 5mm-20mm;
Manifold: OD 100mm-400mm,wall thickness 10mm-40mm;
Static casting supply specifications :
90°elbow,180°elbow,tee , palm tube, three-dimensional shaped elbow , hanging pieces etc.
Technology

Chemical analysis by spectrometer for each heat, PT 100%(liquid penetrant test), VI(visual inspect)100%, dimensional check.

Material

ZG40Cr25Ni35Nb,ZG40Cr35Ni45Nb,HP-Nb,HT50,GX40NiCrSiNb35-26,GX40NiCrNb45-35,G-NiCr28W,SCH24XNb

Products

Reformer tubes
Cracking tubes
Cast tube sheets
Cast Brackets and guides
Cast Return bends & plug Headers
Furnace observation doors
Air preheater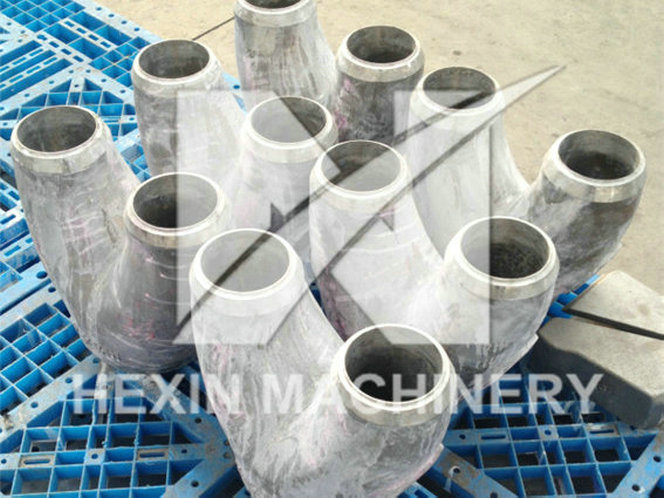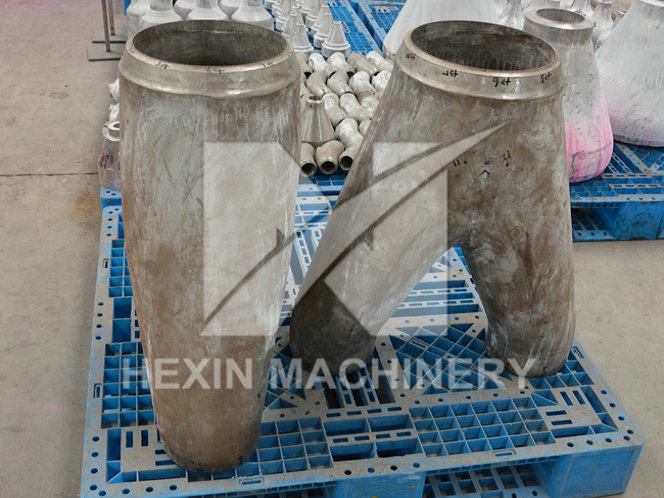 About us
Qingdao Hexin Machinery is professional for manufacturing, sale and research of high temperature alloy centrifugal cast tube, Heat resistant steel precision castings and sand mold casting.
The main products are: Ethylene cracking furnace furnace tube, reformer furnace tube, all kinds of casting alloy elbow, casting tube sheet, hook, hanger, bracket and other heat resistant casting products. Furnace rollers, radiant tubes, sink roll, stabilizing roll, support arm and sleeve and other heat resistant alloy used for continuous galvanizing line(continuous annealing line), all kinds of heat treatment fixtures used for heating processing equipment, like tray, basket, fan and so on. Widely used for famous brand heat treatment equipment, such as IPSEN, AICHELIN, FONTON, etc.
We committed to the strict quality control and strictly implement ISO9000 series quality management system, Ensure the castings in each process of each station "zero defect" production, Quality has won the acceptance of customers at home and abroad.
Welcome to view our website: www.hexinmachinery.com

 
 
Plastic PP Faucet,Push Plastic Faucet,Push PP Plastic Faucet,Push Type Plastic Faucet
Cixi Ruisheng Electric Appliance Factory , https://www.rswatertap.com